Our mission is to deliver outstanding and multiple
property services for our clients and communities.
About Sunlord 
Established in 1992, Sunlord is a proudly Australian-owned company that operates in the heart of Sydney CBD. We have been proudly serving the local community for over 25 years. We were established to be a developer and  now we focus on providing a comprehensive integration of high-quality property services for different clients. We manage the buildings we built, as we just get on with what we are best at.
With us, you have access to excellent experience in the property, sales and leasing process. With us, you get to focus more on your personal life and stress less about the tenants and maintenance of your property by entrusting it to good, experienced hands.
All we can say is, "Thank you". Thank you for having been coming along with us through the years.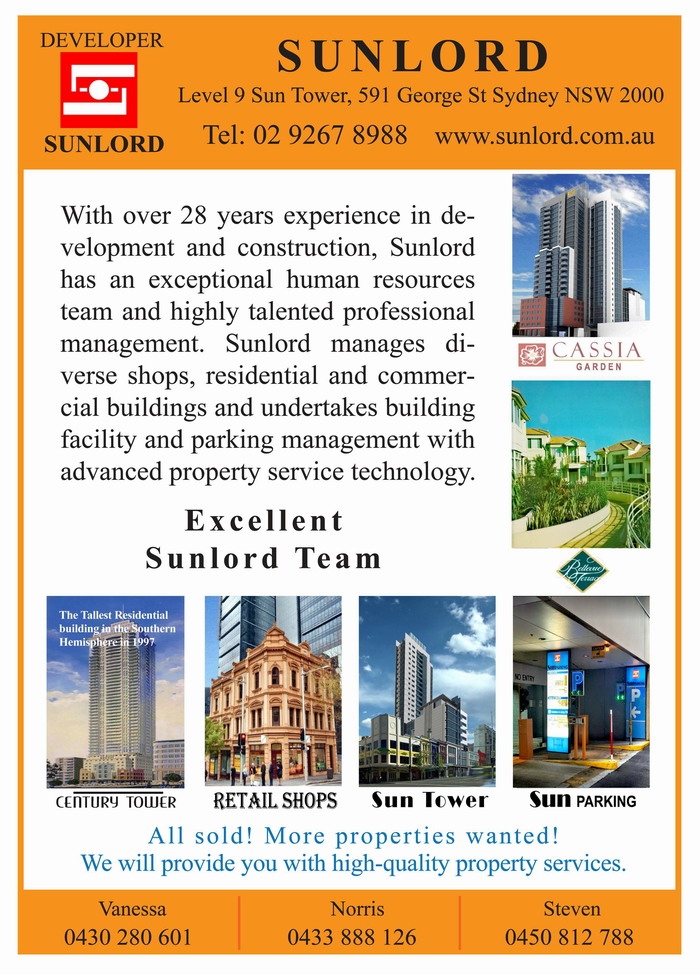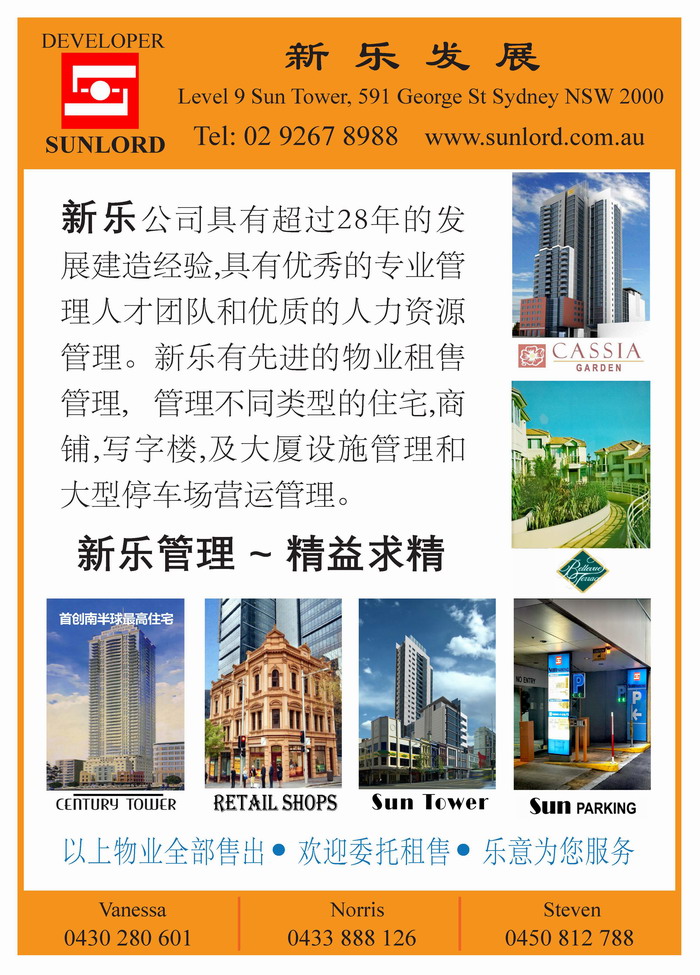 Sunlord prize awarded by University of Sydney
Sunlord aspires to contribute positively and significantly to excellence in architecture and the built environment.
Sunlord believes that the recognition and encouragement of excellence in architectural students (being the potentially exceptional, creative and innovative architects of the future), would make a meaningful contribution to realising Sunlord's ambition.  
Thus, in 1997, Sunlord donated a generous sum to the University of Sydney, and from such donation the University established the Sunlord Perpetual Prize in Architectural Design. The funds from Sunlord's donation are applied to award an annual prize to an outstanding architectural design student having completed one year in the Master of Architecture at the University. The donation provides prizes in each year, in perpetuity (that is, without an end date).
The donation has awarded prizes to very deserving students over the last 20 years. Sunlord invites past students who have been awarded the Sunlord prize to contact our offices, as we are very interested to catch up with them and discuss the progress of their careers. If any past prize winners have photographs of our awarding them with their prizes, we would greatly appreciate copies of such photographs.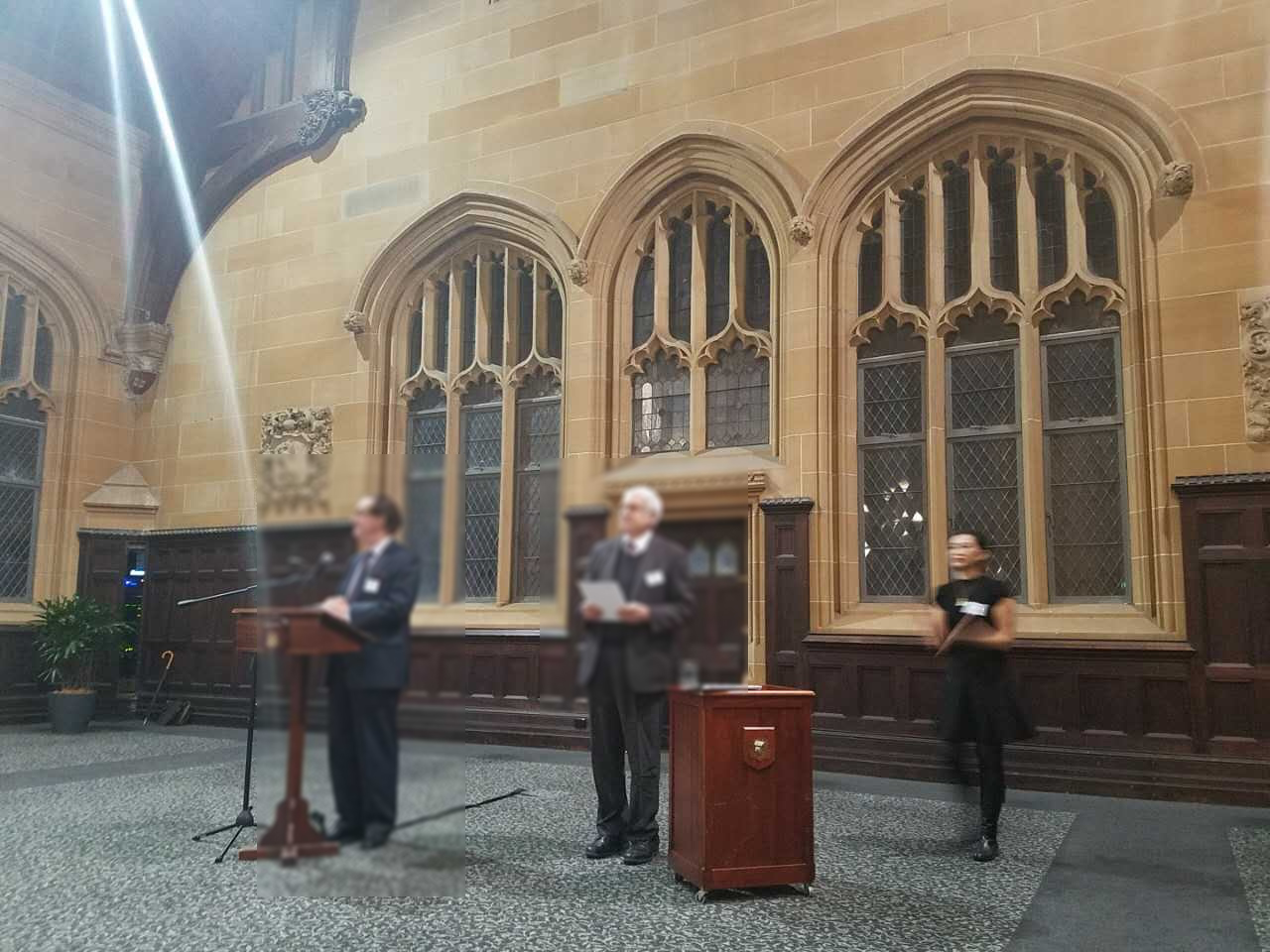 Sunlord希望对建筑和建筑环境的卓越作出积极和显著的贡献。
Sunlord一直认为,建筑学院的学生将是未来具有无限潜力、不断创新和变革的建筑师,对于他们的表彰和鼓励,将为实现Sunlord的勃勃雄心和长远发展做出有意义的贡献。
因此,在1997年Sunlord向悉尼大学捐赠了大笔款项,并由此设立了Sunlord建筑设计永久奖学金。来自Sunlord捐赠的资金,被用于向在大学已完成一年建筑硕士的优秀建筑设计学生颁发年度奖金。捐赠将永久地提供每年的奖学金,并且没有结束日期。这项捐赠在过去二十年中,为那些努力上进的学生颁发奖学金。 Sunlord邀请曾经获得过Sunlord奖学金的学生联系我们的办事处,因为我们很有兴趣与他们讨论其职业发展进度。如果曾经的获奖者仍保存有他们接受奖学金时的照片,我们将非常感谢他们能分享照片副本给我们。